Yagluth is a creature in Valheim.
Description
He is a large skeleton with only the upper half as his body.
Location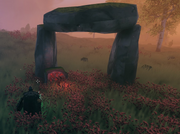 Yagluth's Forsaken altar can be found in the Plains biome. There are Vegvisir runestones in Plains biomes that reveal his summoning location. Some appear near stones that resemble stonehenge, while others appear near small, unassuming single groups of standing stones (see images to the right).
Summoning
Yagluth is summoned by obtaining

 5 Fuling totem and placing them at the sacrificial altar. The altar can be found within five giant stone pillars that resemble fingers from a hand reaching up through the ground. Within the pillars is a small altar that has five small circles in which you can place the totems.
There is a red tablet in front of the altar that can be used once the totems are placed to complete the sacrifice and summon the boss.
Attacks & Abilities
Yagluth is fairly slow but has devastating attacks.
Strategy
Yagluth's red/orange meteor attack can be avoided by using the stone pillars as cover. Yagluth's breath attack has incredible range, but since Yagluth is fairly slow, this can be dodged by side stepping or using the stone pillars as cover (although they will take damage and eventually break). It can also be blocked with a shield, but this is not recommended as it will severely drain your stamina.
Dealing with his attacks
Slam can be dodged. The area effect deals only minimal damage with high armor and fire resistance.
Hide behind the stones to avoid being hit with Meteors.
The Fire Breath is long ranged, but you can evade by dodging to the sides It's only used when not in melee range.
A tunnel can be digged under his altar. This provides a safe place to regenerate health. Campfire can be built for the resting bonus.
Group strategies
Solo strategies
Aftermath
Drops
The "Yagluth thing" is a placeholder item with no use as of version 0.148.7.


Forsaken Power
Yagluth's trophy grants the ability:
Resistance VS magic damage and lightning damage. (Fire, Frost and Lightning)


Events
Defeating Yagluth also stops his story-based event where Fulings raid the players' base.
Gallery
Community content is available under
CC-BY-SA
unless otherwise noted.