Odin Cannot Save You Here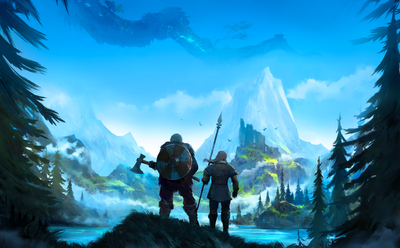 Valheim is a game about exploring a huge fantasy world inspired by Norse mythology and Viking culture. You start your adventure at the relatively peaceful center of Valheim. The further from the center you travel, the more challenging the world becomes. But you will also find more valuable materials that you can use to craft deadlier weapons and sturdier armor. You will also build your own Viking strongholds and outposts all over the world. Eventually, you will build a mighty longship and sail the great oceans in search of exotic lands - but be wary of sailing too far.
Its vast, rich world allows you to battle, build, and conquer your way to a saga worthy of Odin's patronage! This brutal exploration and survival game can be played by 1-10 players at a time.
You can buy Valheim on Steam to get in early and help influence the game's development.
Game Features
Valheim is a complex game with tons of features. If you are just starting out as an adventurer, we have you covered! Start with our summary of the lore of the game, and then check out our FAQ and quick start guide. You can also visit our overview of in-game events.
When you are ready, you can move on to more specific aspects of the game.
The bigger picture
Check out these major elements of the game that you will contend with almost every time you play.
Random Tip of the Day
Each time you reload this page, you will get a new bit of advice to help you play smarter:
Attacking with knives and bows while sneaking confers a large damage bonus.
Items Overview
Learn more about these critical items and more.
About Us
We're a community run and maintained by people just like you! Created by fans, for fans, the Official Valheim Wiki is dedicated to creating a comprehensive and informative resource about Valheim. Looking to jump straight into editing? Check out our projects page!
We also have a place for getting to know each other and to talk about Valheim in our Discussions. Whether you are here to start editing or to chat with fellow users, you are welcome to sign up for an account!
Styling and Rules
To make contributing and socializing easier, check out the following pages:
Discord