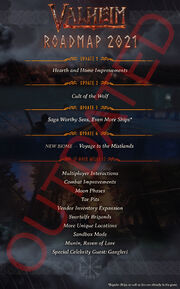 The road map for Valheim as of April, 2021. [1] The road map has since been updated: the new roadmap will be much smaller, but we've made the decision to focus on the big Mistlands update directly after we're done with Hearth & Home, putting aside the smaller updates for now..[2]
Hearth and Home Improvements
Hearth And Home focused on house building, giving players more things to do around their Viking homes. This update also focused on food preparation with more recipes as well as building components.[3] Released September 16th, 2021.
Cult of The Wolf
Cult Of The Wolf is all about exploration and combat, as well as adjusting encounters against players.
Saga Worthy Seas, Even More Ships
Saga Worthy Seas, Even More Ships is based on ship customization and additions to the Ocean biome.[4]
Voyage to the Mistlands
Voyage to the Mistlands will add a new biome with new enemies, items, resources and a new boss, plus more.[4]
Potential Updates
Multiplayer Improvements
Combat Improvements
Moon Phases
Vendor Inventory Expansion
Svartalfr Brigands
More Unique Locations
Sandbox Mode
Munin, Raven of Lore
Special Celebrity Guest: Gangleri
References