Roblox: DeepWoken - The Loop
Play Sound
Eikthyr (First Boss)
Eikthyr can be spawned with 2 Deer Trophies at the altar. When he spawns there is a brief 1-2 second animation before he starts attacking the nearest player. He has 3 different abilities that can be easily blocked with a shield. The first attack looks like a lightning volley. He shoots lightning bolts forwards to a medium range. The second attack is an AoE type of attack. He will stand up briefly on his back feet and discharge lightning in a radius around himself when his feet touch the ground again. His third attack looks like a headfirst charge towards the player.
An easy way to deal with this boss is to use a bow. You can keep your distance and run around the big rocks of the altar while shooting him. The rocks will keep you safe from his forward charge however his AoE lightning discharge will still reach you if you are close to him.
The Elder
The Elder is the second boss after Eikthyr. He has 2 Abilities that deal big amounts of damage to the Player with Rag/Leather Armor/Troll Armor. His first attack is a Summoning of tentacle´s he will summon them all around the Summon altar, and when you come near them, they will attack you and deal insane Damage. You can destroy them by attack, but it would be better when you just ignore them. His Second attack is a Range attack. He will start to raise his hand, and shoot Veins at you. Then what you can do is dodge all the time or hide behind a pillar cause he cant destroy/shoot behind them. I would prefer that you use a bow and many Arrows for this boss. He is weak to fire, so using fire arrows is very effective against him. Additionally, placing campfires around the summoning area can also damage him if he happens to walk over them. This might be an effective strategy for fighting him if you are underprepared, but it can be much easier to spend the time getting fire arrows.
He also has a third attack where he attempts to stomp players close to him
Bonemass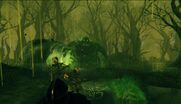 Bonemass is the third boss after The Elder. He deals primarily poison damage, as he has an attack where he spits a cloud of poison in front of him, and another where he summons Blobs and throws them at the player. He also has a melee attack, where he punches the player, but this attack can be blocked with a shield fairly easily, and is much less dangerous than the poison. Bonemass also has a resistance to ranged weapons, and a weakness to blunt and frost damage, and regeneration.
Because of his resistance to traditional ranged attacks, the main strategy for fighting Bonemass revolves around getting a mace to fight him with. The mace is effective against both the boss himself, and the blobs he summons. If you have multiple people to fight the boss with, it may be worth having an archer to counteract the boss's regeneration if the melee fighters have to regain health or stamina, but archery is not a very effective method for actually damaging the boss. Another huge tip for this battle is to brew meads before the battle. The most important is poison resistance, as it will reduce the damage for the most dangerous part of his attacks. However, health regeneration and stamina regeneration are also very helpful if you get in a dangerous situation.
The other major strategy for fighting Bonemass is to use Frost arrows. Typically players wait to enter the Mountain biome until after they have defeated Bonemass, as the Wishbone is required to find silver. However, Drakes and Obsidian can be found beforehand, allowing the player to craft Frost arrows. Unlike other arrows, frost arrows are super effective against Bonemass, although on a multiplayer server it is still a good idea to have at least one player melee and distract the boss. This way the archers don't have to worry about running to safety from the boss and the blobs, and can focus on dealing maximum damage.
Moder
Moder is the fourth boss after Bonemass.
Moder is by far the most complicated boss to summon. The summoning requires 3 Dragon eggs, each of which weigh 200 each, and cannot be teleported. The eggs can be found scarcely scattered throughout the Mountain biome. This means that even after finding Moder's altar, players must make multiple trips from other parts of the Mountain biomes. While it's still a good idea to set up a portal to an area near the altar, the eggs must be brought without portals.
With the right preparation, Moder is in some ways easier than Bonemass. The two most important things with Moder are to have frost resistance (either through armor or Frost resistance meads) and a powerful bow/arrows. This most likely means full Wolf Armor, a Draugr fang, and either obsidian or poison arrows. As with all of the bosses, Moder is much easier to fight with multiple players, as one player can draw her focus, while the others safely damage her. Most of Moder's attacks do less than 150 damage, which means that with good armor and a strong shield (either Silver or Iron tower), it is possible to block most of the damage from her attacks.
When Moder is in the air, she shoots ice blasts at players. While these do even less damage than her melee strikes, they have the capability of being very dangerous if the player is hit by multiple shards. Like with her melee strikes, these shards can be blocked fairly easily with a good shield. However, it is very likely that the player will be using their bow to shoot her when she shoots back, and thus there is a good chance she will get at least a few hits in. Because of this chance of quickly taking a lot of damage, it is a very good idea to bring stamina and health meads.
Yagluth