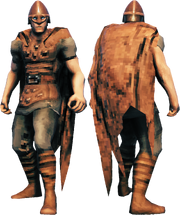 Armor refers to items of clothing players can wear which reduces damage taken from physical, fire, frost and lightning damage types. See Damage mechanics for damage mitigation formula. See Accessories for none damage reducing clothing.
Capes
All capes provide minimal armor, so the players choice may come down to additional effects, crafting cost, or vanity reasons.
Notes
Except for Rag Armor, every craftable piece of armor when upgraded increases armor value by +2 per level.
Every Cape is +1 per level.
Helmets
Armor Piece
Armor (quality 1/2/3/4)
Weight
Additional Effects
Materials Needed
Location Obtained
Yule hat

1/-/-/-
1
Coins:
100
Haldor
Dverger circlet

2/-/-/-
1
Cone shaped light source
Coins:
620
Haldor
Hood of Odin (DLC)

1/2/3/4
1
Leather scraps:
10/5/10/15
Coal:
4/2/4/6
Workbench:
1/2/3/4
Leather helmet

2/4/6/8
1
Deer hide:
6/6/12/18
Bone fragments:
-/5/10/15
Workbench:
2/3/4/5
Troll leather helmet

6/8/10/12
1
Troll Set bonus:
+15 Sneak (Skill)
Troll hide:
5/2/4/6
Bone fragments:
3/1/2/3
Workbench:
2/3/4/5
Bronze helmet

8/10/12/14
3
Bronze:
5/3/6/9
Deer hide:
2/-/-/-
Forge:
1/2/3/4
Root mask

8/10/12/14
3
Resistant(0.5x) VS Poison
Weak(1.5x) VS Fire
Root Set bonus:
+15 Bows (Skill)
Root:
10/2/4/6
Ancient bark:
10/5/10/15
Leather scraps:
4/-/-/-
Workbench:
2/3/4/5
Iron helmet

14/16/18/20
3
Iron:
20/5/10/15
Deer hide:
2/-/-/-
Forge:
1/2/3/4
Fenris hood

10/12/14/16
1
+3% Movement speed
Fenris Set bonus:
+ 15 Fists (Skill)
Resistant VS Fire
Fenris hair:
20/5/10/15
Wolf pelt:
2/4/8/12
Cultist trophy:
1/-/-/-
Workbench:
2/3/4/5
Drake helmet

20/22/24/26
3
Silver:
20/5/10/15
Wolf pelt:
2/-/-/-
Drake trophy:
2/-/-/-
Forge:
1/2/3/4
Padded helmet

26/28/30/32
3
Iron:
10/5/10/15
Linen thread:
15/10/20/30
Forge:
1/2/3/4
Chest Armor
Armor Piece
Armor (quality 1/2/3/4)
Weight
Additional Effects
Materials Needed
Location Obtained
Rag tunic

1/2/-/-
2
Leather scraps:
5/5
Workbench:
1/2
Leather tunic

2/4/6/8
5
Deer hide:
6/6/12/18
Bone fragments:
-/5/10/15
Workbench:
2/3/4/5
Troll leather tunic

6/8/10/12
5
Troll Set bonus:
+15 Sneak (Skill)
Troll hide:
5/2/4/6
Workbench:
2/3/4/5
Bronze plate cuirass

8/10/12/14
10
-5% Movement speed
Bronze:
5/3/6/9
Deer hide:
2/-/-/-
Forge:
1/2/3/4
Root harnesk

8/10/12/14
10
-2% Movement speed
Resistant(0.5x) VS Pierce
Weak(1.5x) VS Fire
Root Set bonus:
+15 Bows (Skill)
Root:
10/2/4/6
Ancient bark:
10/5/10/15
Deer hide:
2/-/-/-
Workbench:
2/3/4/5
Iron scale mail

14/16/18/20
15
-5% Movement speed
Iron:
20/5/10/15
Deer hide:
2/-/-/-
Forge:
2/3/4/5
Fenris coat

10/12/14/16
1
+3% Movement speed
Fenris Set bonus:
+ 15 Fists (Skill)
Resistant VS Fire
Fenris hair:
20/5/10/15
Wolf pelt:
5/3/6/9
Leather scraps:
10/4/8/12
Workbench:
2/3/4/5
Wolf armor chest

20/22/24/26
15
-5% Movement speed
Resistant(0.5x) VS Frost
Silver:
20/5/10/15
Wolf pelt:
5/2/4/6
Chain:
1/-/-/-
Forge:
2/3/4/5
Padded cuirass

26/28/30/32
10
-5% Movement speed
Iron:
10/3/6/9
Linen thread:
20/10/20/30
Forge:
2/3/4/5
Leg Armor
Armor Piece
Armor (quality 1/2/3/4)
Weight
Additional Effects
Materials Needed
Location Obtained
Rag pants

1/2/-/-
2
Leather scraps:
5/5
Workbench:
1/2
Leather pants

2/4/6/8
5
Deer hide:
6/6/12/18
Bone fragments:
-/5/10/15
Workbench:
2/3/4/5
Troll leather pants

6/8/10/12
5
Troll Set bonus:
+15 Sneak (Skill)
Troll hide:
5/2/4/6
Workbench:
2/3/4/5
Bronze plate leggings

8/10/12/14
10
-5% Movement speed
Bronze:
5/3/6/9
Deer hide:
2/-/-/-
Forge:
1/2/3/4
Root leggings

8/10/12/14
10
-2% Movement speed
Weak(1.5x) VS Fire
Root Set bonus:
+15 Bows (Skill)
Root:
10/2/4/6
Ancient bark:
10/5/10/15
Deer hide:
2/-/-/-
Workbench:
2/3/4/5
Iron greaves

14/16/18/20
15
-5% Movement speed
Iron:
20/5/10/15
Deer hide:
2/-/-/-
Forge:
2/3/4/5
Fenris leggings

10/12/14/16
1
+3% Movement speed
Fenris Set bonus:
+ 15 Fists (Skill)
Resistant VS Fire
Fenris hair:
20/5/10/15
Wolf pelt:
5/3/6/9
Leather scraps:
10/4/8/12
Workbench:
2/3/4/5
Wolf armor legs

20/22/24/26
15
-5% Movement speed
Silver:
20/5/10/15
Wolf pelt:
5/2/4/6
Wolf fang:
4/1/2/3
Forge:
2/3/4/5
Padded greaves

26/28/30/32
10
-5% Movement speed
Iron:
10/3/6/9
Linen thread:
20/10/20/30
Forge:
2/3/4/5